05 Oct

Ricardo García Becomes Public Defender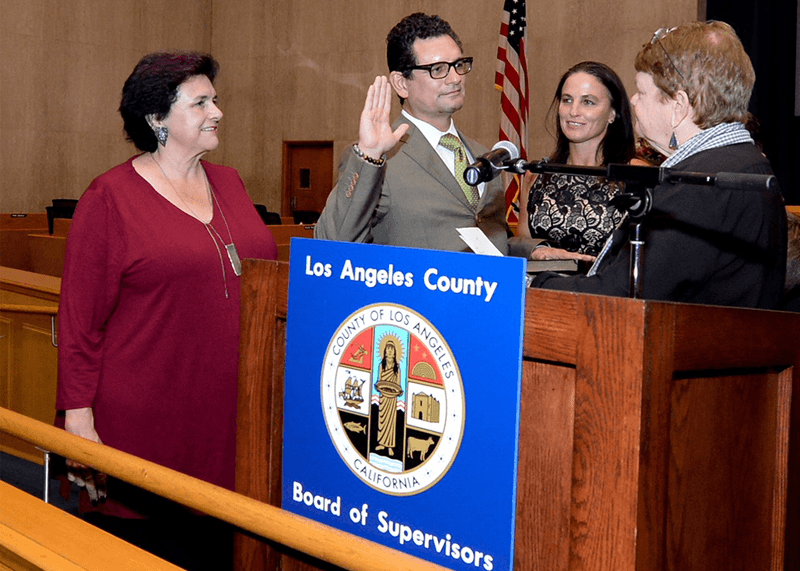 Flanked by his family, Ricardo García was sworn in as the 11th LA County Public Defender after the Board of Supervisors spoke about García's many accomplishments.
The first family member to attend college, García received his Juris Doctorate in 1995 from the University of California, Berkeley. He began his legal career in 1995 with the San Diego Public Defender's Office. In 1998, he was recruited to the Alternate Public Defender's Office as the youngest attorney in that Office.
After more advancements, including supervising the Multiple Conflicts Office, García in 2013 represented Jorge Rojas, a.k.a. El Palillo, in San Diego's longest and most complicated death penalty trial. After a 15-month trial, the prosecution was unable to secure guilty verdicts on five of nine homicides and the defense team secured a life verdict. In 2015, García was awarded Trial Lawyer of the Year by the Criminal Defense Association of San Diego.
"He has shown throughout his entire career that he is a very strong advocate, a zealous advocate, a person devoted to justice," Supervisor Chair Sheila Kuehl told the crowd of about 150 mostly Public Defender employees at the Board Hearing Room inside the Kenneth Hahn Hall of Administration on Oct. 3.
Supervisor Kathryn Barger and others thanked Interim Public Defender Nicole Davis Tinkham.
"While she — or I should say we — faced fierce criticism by many for a lack of experience in the criminal defense arena, she has proven to be a strong and effective leader."
Kuehl said "the majesty of law" is something that's meant the most to her throughout most of her adult life.
"When you think of the majesty of law in America there is really no better example than the requirement that each person has a right to a defense when accused of a crime. That is why in my opinion the Public Defender's Office is one of the most important aspects of what the County does. And why I'm so very happy to welcome Ricardo García to lead this Office."
García told the crowd he was "excited to be your public defender."
"We have a core mission, we all know it. To be zealous advocates," García, LA County's first Latino Public Defender, told the crowd. "To treat our clients with dignity. To do our work with integrity. It's more than just our mission, it's a human mission."