13 Feb

Trailblazing with Dignity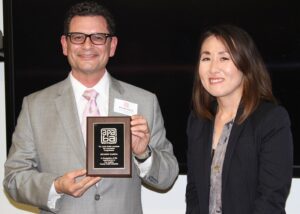 Upon receiving the Asian Pacific American Bar Association's (APABA) Trailblazer-in-the Law Award, LA County Public Defender Ricardo García spoke of his pride at being the first Latino top attorney in the nation's oldest and largest public defender's office.
Public Defender Ricardo García receives his APABA Trailblazer-in-the-Law Award from APABA board member Jane Tanimura.He was surprised to learn there had been no Latino public defenders before him, and expressed dismay that no woman public defender had ever been appointed.
"It is an honor but I think I would also have been as honored if I had been the public defender after women public defenders," García told a group at APABA's awards ceremony held Feb. 7 at Reed Smith's downtown office, where he took time to commend Alternate Public Defender Janice Fukai in the audience.
"There has yet to be the first woman public defender for our Office," García said. "And I think that is absolutely something that is unfortunate."
Born in Los Angeles to immigrant parents from Mexico and the first-generation college graduate in his family, García said that his position was an important lesson for his two young sons.
"I hope they can see the real meaning of it, that their father is a public defender," he said. "That whatever ceiling and whatever perception they had no longer exists."
He wants to be an example, for not only other Latinos.
"But for all young men and women whether they're African American, Asian, gay, lesbian, bisexual, T, Q, it doesn't matter," he told those gathered. "[It's important] that you can see that someone not from the dominant culture can be successful on their own merits. That you have space. That we have room for you."
He ended by telling the crowd that going to work each day was "an amazing honor."
"I get to come to an office with such a rich history," he said of the LA County Public Defender's Office, in existence for 100-plus years. "I get to work with men and women who have been breathing this career in an office that has been living and breathing this practice long before being a public defender was something our Constitution recognized.
"To be a part of that, to be there every day is an honor and dream that I will no matter what happens to me from this day forward, never, ever take for granted."
Others honored at the ceremony were Kevin Brazile, Presiding Judge, Los Angeles Superior Court; Anne Hwang, Chief Deputy Federal Public Defender, recently Appointed Judge of the Los Angeles Superior Court; and Jason Lee, Chair of the California State Bar Board of Trustees.