16 Jan

Compton is Catalyst for Culture Change

Joey had been in and out of the juvenile system since age 13 — the year his mother died of pneumonia and he was shuffled around before entering foster care. Things got worse when Joey's older brother was shot and killed in a drive-by.

At 19, Joey (not his real name) was assigned a public defender in Compton after being accused of residential burglary. That's when UCLA law students Delaram Kamalpour and Kelsey Atkinson joined the effort to persuade the judge that Joey was not a flight risk and should not languish in jail on bail.

In a pilot project, the LA County Public Defender's Office in Compton is collaborating with The Bail Project and UCLA Law School to lower the bail and secure the pretrial release of as many clients as possible. Ten UCLA students are working with Compton public defenders to prepare and present bail hearings this fall. The students are certified law clerks who are able to argue on the record.

"The UCLA law students are helping our felony lawyers target some cases for bail review hearings," Compton Head Deputy Jane Newman said. "And we're working with the Bail Project to get clients appropriate services and get bail down to someone's true ability to pay so that there can be a cash bail out."

Launched a decade ago in the Bronx, The Bail Project combats mass incarceration at the front end by paying bail for tens of thousands of low-income Americans at risk of pretrial detention.
The Bail Project's CEO Robin Steinberg recalled making a presentation about her group's mission to the LA County Public Defender's Office.
"After the presentation, there was one public defender from one office who stood up," Steinberg recounted. "That was Jane [Newman]. And she said, 'Come to Compton, just bring it to Compton, I'll do whatever it takes, I'll move whatever mountains I have to move.' And I was like, 'You move the mountains and we'll come. And together we have moved mountains."
Since September, the Public Defender and UCLA law students' team have won 10 of 12 bail hearings in Compton.
"These are medium level felony cases, they're not easy cases," Newman said. "I think all of us care about the inequities of bail reform. I think in Compton that judges and prosecutors care about it too and what we're trying to do in Compton is use this as an experiment as we head into the world of SB10."
Each day, hundreds of thousands of legally innocent people languish in jails simply because they can't afford bail. Bail amounts vary widely, with California leading the nation with the highest amounts.
"In Compton bail on average is $20,000," Newman said. "For a basic misdemeanor you're talking $20,000, but our judges in Compton can have your bail set at $100,000 on a misdemeanor. The felony bail schedule on basic crimes go from $20,000 all the way up to a million dollars. Just being charged with a robbery is $50,000 bail. And all that has happened is that charges have been filed. The U.S. Constitution says you are presumed to be innocent."
So the poor suffer. Even the lower amounts are more than many can pay, and they will spend time in jail for lack of as little as $500 or even $250.
As people await court hearings behind bars, sometimes for years, they suffer from inadequate medical care and dangerous conditions, and many lose their jobs and housing. They also are more likely to take plea bargains just to get out of jail, whether or not they actually committed a crime.
"The system is really hooked into incarceration," Newman said. "It relies on the bail system because in my view there isn't really enough time in a court calendar for a court trial for everyone who wants one. So what we see is that if you're in custody waiting for your trial, it has a huge coercive effect. People will do anything to get out."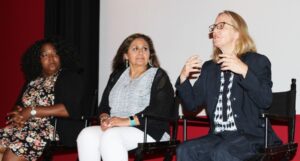 With the signing of the California Bail Reform Act (SB 10) in August, California became the first state to fully abolish cash bail. But the law, which takes effect in October 2019, has been highly criticized by many human rights groups as giving the courts too much power.
The law replaces cash bail with a statewide system of risk assessments (computerized algorithms that supposedly predict human behavior) while expanding probation departments and giving judges extremely broad discretion to detain people — not on bail, but without any hope of release at all.
"This is not bail reform," The Bail Project states on its website. "This is a new scheme of pretrial incarceration and it has great potential to entrench the very racial and economic disparities that reformers want to address."
Algorithms don't look at clients as human beings, Newman said. But she hoped that SB10 may become a catalyst for a culture change in the system. Her collaboration is meant to accelerate that change.
"We did a hearing last week in Compton, and the UCLA students did a tremendous job humanizing our client," Newman said. "The judge didn't even take two seconds and said, 'OK I'll drop bail from $50,000 to $25,000.' And I think she thought she was doing us a favor, but $25,000 is a no-bail hold for our client.
"So what we're doing in Compton with this project, we're working hard to advocate to get bail down to what someone can really pay. Then the Bail Project is paying to get people out. We want to have these arguments in every courtroom in the building rather than one judge here and one judge there, so that we are actually talking about this all the time. In lots of ways we are trying to promote systemic change."
One of the collaboration's successful bail hearings was Joey's case. Proving to the judge that Joey was not a flight risk was challenging, Kamalpour said. Judges consider the client's ties to the community, ties to their families and jobs, but Joey had none of these ties.
"He had no job waiting for him," Kamalpour said. "His family did not welcome him back home. Our client was homeless."
So the group secured for Joey a residential drug treatment program in Venice, which persuaded the judge that he was not a flight risk.
"The judge gave him conditional release on his own recognizance," Kamalpour said. "The condition was that he be released to the hands of Phoenix House. That was a month ago. He is still there and has returned to court. He's successfully going through the program.
"He's young. He has dreams of becoming a journalist, dreams of having a family. When we advocated for him, we tried to conceptualize this client's dreams and unbelievably tragic background that was not his fault. We wanted to simply give him a chance and put him on the right trajectory. Thankfully the judge saw that too. Now he's doing well and we couldn't be happier."
Photo captions from top:
1) Key collaborators from left: The Bail Project member Daryl McAdoo, DPD Meredith Galen, The Bail Project member Shameka Parrish-Wright, Head Deputy Jane Newman, The Bail Project CEO Robin Steinberg, Deputy-in-Charge Sharonda Bradford and DPD Alisa Blair.
2) UCLA law students Delaram Kamalpour and Kelsey Atkinson make their case during a bail hearing inside the Compton Courthouse.
3) Newman is interviewed by USC Annenberg student Marmarah Similien about bail reform and the Compton collaboration for Match Volume, a podcast production of USC Annenberg Media.
4) Head Deputy Jane Newman speaks during a panel discussion on bail reform and the bail collaboration held in Beverly Hills sponsored by the Bail Project, while The Bail Project members Shameka Parrish-Wright and Dolores Canales listen.
5) Collaborators from left: Lillian Kalish (The Bail Project), Michael Nishimura (The Bail Project), Alicia Virani (Assoc. Director, Criminal Justice Program, UCLA Law School), Delaram Kalampour (UCLA law student), DPD Johan El-Farra, Ethan Van Buren (UCLA law student), Kelsey Atkinson (UCLA law student), Head Deputy Jane Newman.